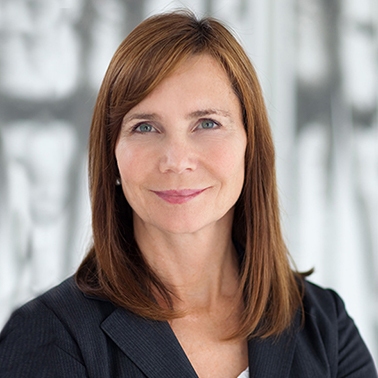 Bonny E. Sweeney
San Francisco
415-633-1953
bsweeney@hausfeld.com
Bonny E. Sweeney, a leading antitrust litigator, is a Partner in the San Francisco office of Hausfeld.
Bonny has represented clients in some of the most significant antitrust cases in the United States in the last 20 years. She previously served as co-lead counsel on behalf of a class of merchants in In re Payment Card Interchange Fee and Merchant Discount Antitrust Litig. (E.D.N.Y.), a sprawling litigation against the world's largest credit card companies. Bonny, together with Hausfeld, also served as co-lead counsel in In re Aftermarket Auto Lights Antitrust Litig. (C.D. Cal.), which settled for more than $50 million, and in which counsel obtained a landmark decision denying a leniency applicant's bid for reduced civil damages under the Antitrust Criminal Penalty Enhancement and Reform Act (ACPERA), because the defendant had not provided satisfactory or timely cooperation under the statute. Bonny is one of the attorneys representing clients in high stakes litigation against some of the largest banks in the world in the In re Foreign Exchange Benchmark Rates Antitrust Litigation, 13-cv-07789 (S.D.N.Y.) which has secured over $2.3 billion in settlements.
The Daily Journal recognized these legal achievements in May 2014, naming Bonny as one of the Top Women Lawyers in its Annual List of 100 Leading Women Lawyers in California. Bonny was also named as a Local Litigation Star in Antitrust in 2016 by Benchmark Litigation Rankings, and as Litigator of the Week by Global Competition Review in 2014. Bonny served as lead trial counsel for the plaintiff class in In re iPod iTunes Antitrust Litig., which was tried to a jury in 2014, and was also one of the trial lawyers in Law v. NCAA/Hall v. NCAA/ Schreiber v. NCAA (D. Kan.), in which the jury awarded $67 million to three classes of college coaches. She has participated in the successful prosecution and settlement of numerous other antitrust and unfair competition cases, including In re Currency Conversion Fee Antitrust Litig. (S.D.N.Y.), which settled for $336 million.
Bonny currently serves as lead or co-lead counsel in several pending antitrust class actions, including In re Contact Lens Antitrust Litig. (M.D. Fla.), In re Packaged Seafood Products Antitrust Litig. (S.D. Cal.), and In re Parking Heaters Antitrust Litig. (E.D.N.Y.).
Practice Areas
Antitrust / Competition
Financial Services and Securities
Education
Case Western Reserve University School of Law, J.D., summa cum laude, 1988, Editor, Law Review, Member, Order of the Coif
Cornell University, M.A., 1985
Beijing Language Institute, Chinese Language Certificate, 1982
Whittier College, B.A., 1981
Bar Admissions
California
Massachusetts
Tenth Circuit Court of Appeals
United States Supreme Court
Ninth Circuit Court of Appeals
Affiliations & Honors
Recommended Lawyer - Antitrust - Civil Litigation/Class Actions - Plaintiff, The Legal 500, 2019
Leading Lawyer, Lawdragon 500, 2018 - 2019
Adjunct Professor, University of San Diego School of Law (Sports and the Law), 2018
Advisory Board member, MLex, 2018
Vice-Chair, Trial Practice Committee, ABA Section of Antitrust Law, 2015-16, 2016 -17
Local Litigation Star in Antitrust, Benchmark Litigation Rankings, 2016
Top Women Lawyers in California, Daily Journal, May 7, 2014
Advisory Board Member of the Institute for Consumer Antitrust Studies, Loyola University, since 2009
Former Chair of the Antitrust and Unfair Competition Law Section of the State Bar of California
Litigator of the Week, Global Competition Review, October 1, 2014
Super Lawyer, since 2007
Outstanding Women in Antitrust, Competition Law 360, 2007
Advisory Board Member of the American Antitrust Institute, since 2004
Wiley M. Manuel Pro Bono Services Award, 2003
San Diego Volunteer Lawyer Program Distinguished Service Award, 2003
News & Press
Sweeney Named to the Daily Journal's Annual List of 100 Leading Women Lawyers in California (May 7, 2014)
Sweeney Named as Litigator of the Week by Global Competition Review, October 1, 2014
Publications
The Next Antitrust Agenda: The American Antitrust Institute's Transition Report on Competition Policy to the 45th President of the United States (forthcoming 2017) (contributing author)
Antitrust Law Developments (Eighth), ABA Section of Antitrust Law (forthcoming 2017) (contributing author)
Earning ACPERA's Civil Benefits, 29 Antitrust Magazine 37 (Summer 2015)
Defining Antitrust Violations in the United States, Private Enforcement of Antitrust Law in the United States: A Handbook (Albert A. Foer and Randy M. Stutz, eds.) (Elgar, 2012)
Defining Antitrust Violations in the US, The International Handbook on Private Enforcement of Competition Law (Albert A. Foer and Jonathan W. Cuneo, eds.) (Elgar, 2010)
State Common Law Torts, Business Torts and Unfair Competition Law, Antitrust and Unfair Competition Law Treatise (4th ed., 2010) (co-author)
The Next Antitrust Agenda: The American Antitrust Institute's Transition Report on Competition Policy to the 44th President of the United States (Albert A. Foer, ed. 2008) (co-author)
The 'Federalization' of the Cartwright Act, 17 COMPETITION 139 (Fall 2008)
An Overview of Section 2 Enforcement and Developments, 2008 Wis. L. Rev. 231 (2008)
Market Competitiveness: Does State Antitrust Law Need to be Updated? Statement Before California Senate 
Judiciary Committee, 14 COMPETITION (Spring/Summer 2005)
Presentations & Speeches
Panelist, "Antitrust and Silicon Valley: New Themes and Direction in Competition Law and Policy," Santa Clara University School of Law Review, Santa Clara, CA (March 2019)
Panelist, ACPERA in Civil Cases panel, ABA Section of Antitrust Law's 66th Spring Meeting (April 2018)
Panelist, "A Fresh Look at the Role of Economics in Antitrust Analysis," The American Antitrust Institute 17th Annual Conference, Washington, D.C. (June 2016)
Faculty Member, ABA Antitrust Masters Course, Williamsburg, VA (Sept. 2016)
Participant, Mock Trial, ABA Section of Antitrust Law, Spring Meeting, Washington, D.C. (April 2015)
Participant, Mock Trial, George Washington University, Washington, D.C. (Sept. 2015)
Litigation in the Aftermath of Criminal Prosecution," ABA Antitrust Section, 2014 Spring Meeting, Washington, D.C. (March 2014)
Faculty Member, ABA Antitrust Masters Course, Williamsburg, VA (Sept. 2014)
Faculty Member, ABA/IBA International Cartel Workshop, Rome, Italy (Feb. 2014)
"Comcasting a Wider Net? A Real-Life Study of Comcast Corp. v. Behrend's Application and Effect at Class 
Certification," ABA 2013 Class Action National Institute, Boston, MA (Oct. 2013)
"Recent Developments in California Antitrust and Unfair Competition Law," Antitrust and Unfair Competition Law Section, San Francisco, CA (June 2013)
"Judgment Sharing Agreements: The Plaintiff's Perspective," ABA Antitrust Section, 2013 Spring Meeting, Washington, D.C. (Apr. 2013)
Panelist, "Antitrust and Sports Law," Ninth Circuit Judicial Conference, Lahaina, HI (Aug. 2012)
Contributor, "Joint Comments of the American Bar Association Section of Antitrust Law and Section of International Law to the Department for Business Innovation & Skills' Consultation on Options for Reform of Private Actions in Competition Law" (July 2012)
Faculty Member, ABA/IBA International Cartel Workshop, Vancouver, Canada (Feb. 2012)
Panelist, "Clayworth v. Pfizer," Los Angeles County Bar Association, Antitrust Section (Mar. 2011)
Faculty Member, ABA/IBA International Cartel Workshop, Paris, France (Feb. 2010)
"Hydrogen Peroxide Will Clear It up Right Away: Developments in the Law of Class Certification," ABA Section of Litigation, 13th Annual National Institute on Class Actions, San Francisco, CA (Oct. 2009); Washington, D.C. (Nov. 2009)
Panelist, "The Future of Privacy Advocacy Conference," San Diego, CA (May 2009)
"Re-Energizing Section 2 of the Sherman Act," American Antitrust Institute's 10th Annual Conference, Washington, 
D.C. (June 2008)
"Plaintiffs' Strategies for Pursuing Private Damage Claims," ABA Antitrust Section, 2008 International Cartel Workshop, San Francisco, CA (Jan. 2008)
"Recent Developments in Class Action Litigation," PLI program, New York, NY (Mar. 2007)
"An Overview of Section 2 Enforcement and Developments," University of Wisconsin Law School Colloquium, Madison, WI (Nov. 2007)
Plaintiffs' Trial Team, ABA Antitrust Section, The Antitrust Litigation Course, Philadelphia, PA (Oct. 2007)
"An Overview of Section 2 Enforcement and Developments," American Antitrust Institute, Washington D.C. (June 
2007)
"Consumer Litigation (Bus. & Prof. C. §17200, Class Actions, CLRA)," Rutter Group program, San Francisco and Los Angeles, CA (Mar. 2006)
"Recent Developments in 17200 Litigation," Antitrust and Unfair Competition Law Section, San Francisco, CA (Dec. 2006)
"Arbitration in the Class Action Context," CLE International program, San Francisco, CA (Feb. 2006)
"Financial Services and Insurance Industry Litigation," ALI-ABA program, New York, NY (Mar. 2005)
"Recent Developments in Antitrust Law," Antitrust and Unfair Competition Law Section, San Francisco, CA (Jan. 2005)
"Market Competitiveness: Does State Antitrust Law Need to be Updated?" Testimony, California Senate Judiciary 
Subcommittee on Anti-Competitive Conduct and Market Competitiveness, Sacramento, CA (Aug. 2005)
"Introduction to California Antitrust Law," Antitrust and Unfair Competition Law Section, Monterey, CA (Oct. 2004)
"Trying the Antitrust Case," Antitrust and Unfair Competition Law Section, Los Angeles, CA (Apr. 2004)
"Implications of Proposition 64: Changes to the UCL, Bus. & Prof. Code §§17200 et seq. Imposed by Prop. 64," Antitrust and Unfair Competition Law Section, Los Angeles and San Francisco, CA (Nov. 2004)
"The Nuts and Bolts of 17200," Antitrust and Unfair Competition Law Section, Los Angeles, CA (Mar. 2003)
"Nuts and Bolts of a 17200 Action," Section Educational Institute, Berkeley, CA (Jan. 2003)
"The Unfair Competition Law," San Diego County Bar Association program, San Diego, CA (July 2003)
"Financial Privacy Law," National Council of Higher Education program, Carlsbad, CA (Mar. 2000)
Guest speaker on KSDO radio Legal Affairs program devoted to financial privacy issues, San Diego, CA (Feb. 2000)