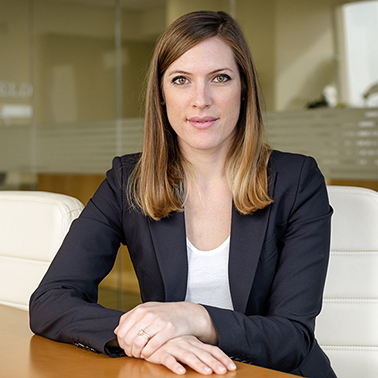 Associate
she / her / hers
Experience
Samantha is an attorney in Hausfeld's San Francisco office, specializing in complex litigation, class actions, and antitrust enforcement. She primarily represents small businesses and consumers in several major class actions, acting as the lead associate on multiple cases. As a result of this work, SuperLawyers has ranked her a "Rising Star" between 2018-2020.
In her practice, Samantha has dealt with issues ranging from complex econometric modeling and expert work to managing relationships with leniency applicants under the Antitrust Criminal Penalty Enhancement and Reform Act ("ACPERA") to millions of documents produced in discovery. Samantha has argued in Federal Court, briefed numerous motions, and led discovery in multiple complex cases.
Prior to representing clients at Hausfeld, Samantha worked in the federal court, completing a two-year judicial clerkship in the United States District Court for the Northern District of California with the Honorable Magistrate Judge Maria- Elena James. Samantha was also a judicial extern in Northern District Court with both Magistrate Judges Donna Ryu and Maria-Elena James. During this time in the Northern District, Samantha gained exposure and experience in a wide variety of civil and criminal cases and a diversity of legal and case management issues.
Samantha regularly writes on issues impacting the antitrust and class action bar and participates in events within the antitrust and consumer protection legal communities. She also supports and promotes Hausfeld's climate justice work wherever possible.
Clients
Samantha's current clients include direct purchaser businesses and consumers.
Practice Areas
In re Packaged Seafood Products Antitrust Litigation – Samantha is the lead associate on this case representing direct purchaser businesses in a class action suit alleging an antitrust price-fixing conspiracy among the main manufacturers of packaged tuna products in the United States. Defendants Bumble Bee and StarKist have pleaded guilty for violating the antitrust laws, as have several of their senior employees. Defendant Chicken of the Sea is the leniency applicant cooperating with the U.S. Department of Justice. The Court appointed Hausfeld as sole lead counsel for a class of direct purchasers.
In re Inductors Antitrust Litigation – Samantha is the lead associate in this proposed class action alleging a conspiracy to fix prices of inductors sold in the United States. Defendant TDK is leniency applicant cooperating with the United States Department of Justice on its investigation into violation of the antitrust laws in the inductors market. The Court appointed Hausfeld LLP as co-lead counsel for a proposed class of direct purchaser plaintiffs.
In re Blue Cross Blue Shield Antitrust Litigation – Samantha is part of the case team in this multidistrict litigation alleging that Blue Cross/Blue Shield entities across the country have entered into agreements not to compete with each other for customers of health insurance.
Corcoran v. CVS Health Corp. – Samantha is part of the case team in this class action suit on behalf of consumers alleging CVS engaged in a false and deceptive pricing scheme that forced them to pay CVS higher copayments.
What Others Say
Samantha has been named an Antitrust Litigation "Rising Star" in Northern California by Super Lawyers (2018-Present)
While attending law school at the University of California Hastings College of Law, Samantha won top student awards in her classes, including Prosecuting International Price-Fixing Cartels as well as Energy Law
Education
University of California Hastings College of the Law, J.D. 2014
Boston University, B.A. Political Science, 2009
Affiliations & Memberships
Judicial Law Clerk to the Honorable Maria-Elena James (2014-2016) Judicial Extern to the Honorable Donna Ryu (2014)
Judicial Extern to the Honorable Maria-Elena James (2013)
Editor and the symposium leader, UC Hastings Constitutional Law Quarterly
Extern with the United States Federal Trade Commission and San Francisco City Attorney's Trial Team