Between at least January of 2000 and February of 2006, major international cargo airlines from around the world conspired to inflate the price of shipping goods by air. Following raids by law enforcement agencies around the world on February 14, 2006, Hausfeld filed class action lawsuits in the United States seeking to recover the damages inflicted by the conspiracy. The consolidated action, which is pending in the Eastern District of New York, seeks damages for overcharges incurred with respect to air cargo shipments to, from and within the United States. The firm was appointed co-lead counsel for the class by the Court. In addition, due to Hausfeld's foreign law expertise and European presence, the firm also was appointed foreign purchaser lead counsel.
The conspiracy increased global shipping prices, costing businesses and individuals that ship goods by air billions of dollars in damages.
In October 2014, Magistrate Judge Pohorelsky issued a 114-page opinion recommending certification of the class, which Judge Gleeson adopted in full in July 2015. The district court also denied the defendants' motions for summary judgment and granted summary judgment motions filed by the plaintiffs.
Over the course of the litigation, the class has reached settlements totaling more than $1.2 billion with the following defendant airlines: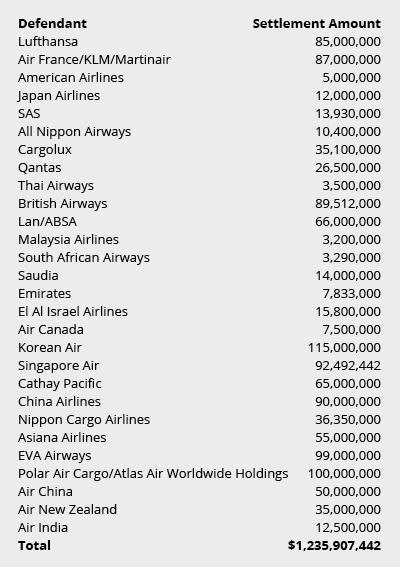 More information and court documents can be found at the settlement websites: